You can enable "video mirroring" on the first gen iPad and iPhone 4 by using a pretty simple hack. There are Cydia apps that does this for you. I use DisplayOut which costs $2.99 in the Cydia App Store. It offers options like resolution choices, enable/disable and show screen taps on the projected screen. But this do-it-yourself (DIY) tip is for those who either want the function for free or just like to know how things work.
You'll need a few things and some patience before you get started, but it's really not that hard to get this setup and working. All sets are done from the iPad itself, no desktop or laptop needed.
Here are the requirements:
Apple VGA Adapter ($29.99) or Apple Digital AV Adapter ($39.99) for mirroring

iOS 4.3.1 installed on the iPad 1 or iPhone

Jailbroken iPhone or iPad 1: You can use redsn0w 0.9.6rc9 or PwnageTool 4.3. If you aren't sure what to do, follow our guide to jailbreak iOS 4.3.1 with redsn0w.

iFile (if you read my Best Cydia Apps for iOS 4.3.1, you may already have this)

Assuming you are now jailbroken, you use the iFile app on your iPad or iPhone to locate the following directory:

/System/Library/CoreServices/SpringBoard.app/

Within this directory, look for the following files: "K48AP.plist" for iPad, or "N90AP.plist" for iPhone 4



Press and hold on the filename until the above menu appears. Click on the "Text Viewer" choice from the list. Click "Edit" in the upper left corner.

The easier thing to do would be to locate and copy the following text

"displayport"
" "

And paste it above the existing text so that it exists twice

"displayport"
" "
" displayport"
""

Now change displayport to display-monitor

" display-monitor"
" "





Save the file by clicking save in the upper right corner.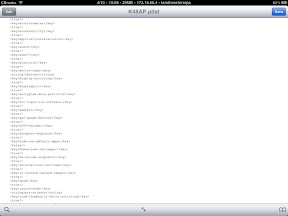 Close the file by clicking "done" in the upper right corner, then restart the device (if you have SBSettings, my Best Cydia Apps for iOS 4.3.1, just respring from its menu)

Now just plug in the AV cable and start mirroring!



This might even work with the iPhone 3GS and iPod touches but I can't verify either.

Bonus: if you want to change the name "iPad" in upper left hand corner of iPad, edit the same file and change the word iPad (on the line above one you just edited) to what you want. I think it is an eight character limit though .

Tags: iPad, iPhone, Tips & Tricks

By Carl W. Brooks
Editor, iamthereforeipad.com