I think it is humorous that sites release these ranking and NOT provide how they arrive at the results. They indicate in their press release below that the Motorola Atrix, "In terms of innovation and hot new features...ticks all the right boxes".
People use do not get it. Something might have all the "ticks marks" and the masses won't buy it in large quantities nor will they refer it to their friends and families either. The Apple iPad 2 will no doubt win the race in regards to profits, visibility, market share and more importantly usability by real customers.
How many people have you seen using an Atrix phone with or without the laptop accessory out in the real world: airport, workplace, coffee shop, on the mass transit, or at a friend or families' home? How many lines have you seen gathered outside any store to purchase either Motorola Android product on the list?
Contrast that to the iPad: I bet you have met at least one person with the iPad 2 (there are more of course), but one is enough to beat out either Android device on the list.
By Carl W. Brooks, Editor
--------------------------------------------------------------
Bath, Banes, United Kingdom, 04/01/2011 - An Android-powered comeback sees Motorola's Atrix smartphone top the T3 Hot 100 list as best gadget of the year, beating the Apple iPad 2 into second place.
Gadget magazine, T3, has unveiled its sixth annual Hot 100, the definitive annual snapshot of the world's most exciting, trend-setting tech.
Tablets and smartphones make up seven of the top ten, with dual-core processors blazing the way in almost all the devices.
The top ten features the Motorola Xoom and the HTC Flyer duking it out with the iPad 2 and BlackBerry Playbook, while smartphone contenders include the LG Optimus 3D and Samsung Galaxy S II, laying down the gauntlet to Apple's forthcoming iPhone 5.
Sony's NGP (No 4) has soundly beaten Nintendo's 3DS (No11) in the battle of the most coveted gaming handhelds. See the full list now at hot100.t3.com
"In terms of innovation and hot new features, the Motorola Atrix ticks all the right boxes," said Luke Peters, Editor of T3. "We see it as a potential category changer and for that reason deserves to take the number one spot in this year's Hot 100."
This year's list has everything, from premium products with a price tag to match – the £19,800 Leica M9 Titanium camera – to budget-conscious bargains like Griffin's £15 wristband for the iPod Nano.
There's even a sprinkling of celebrity glamour in the shape of Lady Gaga's space-age Polaroid Camera Glasses and 50 Cent's Sleek Audio headphones.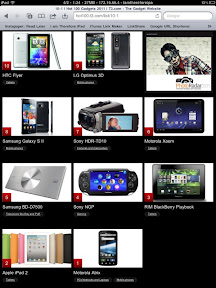 The Hot 100 is in T3 Magazine issue 189 (out now), T3 iPad edition and at
hot100.t3.com
/.