Racers, start your engines (and strap on an after-market rocket launcher, for good measure)!
Death Rally
, the destructive racer that first appeared on PC's back in 1996, has been reinvented for iOS devices, and is now available through Apple's App Store.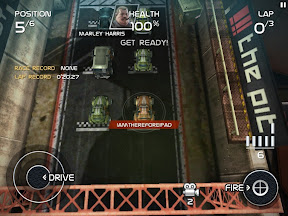 The 1996 version of Death Rally for PC was developed by Remedy Entertainment, published by Apogee, and distributed by GT interactive. The iOS revamp available today was co-developed by Mountain Sheep and Cornfox & Bros., with Remedy assuming the publishing role.
The iOS version of Death Rally is still all about obtaining and upgrading new vehicles, and laying waste to your competitors using a variety of ordinance on your way to the finish line. In other words, it's sort of like commuting in Los Angeles.
Character cameos from other titles will also be on tap, beefing up the racing roster with names like "Duke Nukem, John Gore from Minigore, Barry Wheeler from Alan Wake." Free content updates are also planned, which will add "new tracks, new guns, new cars, challenges, multiplayer and even new guests, like the Mighty Eagle from Angry Birds."
A dirty cop force you to drive in the Death Rally to avoid serious jail time. It is not just about finishing the race, it is about doing so and ensuring the competition never does. The tracks are a series of maps that basically go around in loops with obstacles to avoid, bridges to overpass, beam to avoid and weapons to take out the other racers. It is a top view game, so the traditional steering by tilting the iPad is not used. The controls are simple, you have a joystick circle area that controls your vehicle's movement and a fire button to shoot the challengers. It doesn't have gas or brake pedal to worry about, just steering, avoiding damage and aiming. As you earn cash from the races, you upgrade your vehicle.
Death Rally
only costs $4.99 for the time being (a dollar cheaper than the regular $5.99 price), and can played on iPad 2, iPad, iPhone, and iPod Touch.
By Carl W. Brooks
Editor, iamthereforeipad.com