"We're seeing the above video spreading around the Internet, and while it's cool, and it's based on real science, we're calling an early April Fools' gag.
U.K. comedian, tech-head, and all-around good nerd Jason Bradbury is seen in the vid using a pair of cheap night vision goggles, cling wrap, and an iPad 2's camera to take a revealing photo of himself--through his clothes.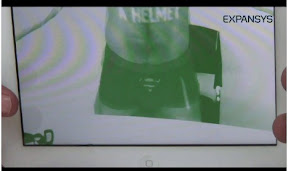 The idea is based on an inadvertent side effect that some camcorders with low-light functions experienced about a decade ago. The cameras worked by emitting infrared light via special LEDs. The camera, when in "night vision" mode, would then record video in infrared instead of visible light. Some cameras, though, generated an "X-ray effect," allowing the viewer to see through the clothes of the person being videotaped."
Video:
Watch on YouTube
Source:
Read the full store on CNET
.
Since seeing is believing, I feel won't believe it until I see
iJustine
prove this theory.
By Carl W. Brooks
Editor, iamthereforeipad.com