Update 04/30/2011 - The site shows the price at $10 and states it is "temporary out of stock", but they may replenish them; although it is unlikely. But since you are here, you might as well
check
any way.
I am sure this offer will not last long, so
get this $90 case for $5.00
while you can. The OtterBox Defender Series encases the Apple® iPad in one of the highest quality, toughest protective solution available. Every feature of the device is fully accessible while it is completely enclosed in rugged protection. The innovative multi-layer design protects the iPad from bumps, drops, scratches and dust while keeping protected.
I just ordered mine. While this won't be my day to day iPad case, for $5.30 (with taxes) this was a no-brainer for me to have a tough case for when I need it.
Get it from the
AT&T website
.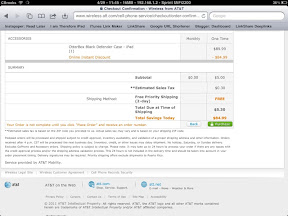 Who wouldn't want to save $84.99 on a $90 iPad case? Even if I never used it personally and wanted to have it in case I sell my iPad, it is worth it for that purpose alone.
Here is a
review
of the case.
By Carl W. Brooks
Editor, iamthereforeipad.com