The iPad is NOT only a consumsion device. It has tons of productivity apps that allow you to get some real work done. But all work and no play, makes Jack a dull boy. Nintendo better fear the iPad just as much as Microsoft should, because there are some great games for the iPad. The quality of the graphics and the game play will rival most games available for home gaming consoles. Try taking your 50" TV and the Wii out on the go; it won't happen. The iPad can go wherever you go and offer some exciting titles to entertain you. To celebrate how far the iPad has come as a gaming device, we've gathered together 51 of the best-reviewed iPad games of all-time.
The 51 Best Games for the iPad: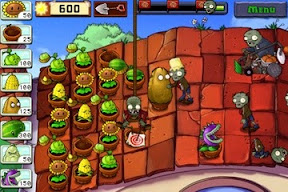 1.
Plants vs Zombies
($2.99) is one of the most popular and bestselling games ever for the iPad. It's a tower-defense game where the object is to defend your home from endless Zombies using special plants and their powers. A whimsical cartoony style belies the serious strategy it will take to successfully defend your home. Beautiful graphics and deep gameplay make this one a winner.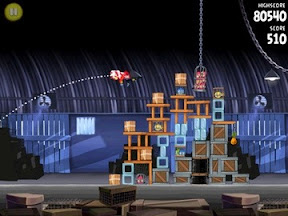 2.
Angry Birds Rio HD
($0.99) is the sequel to the famous physics puzzler and a tie-in with the recently released movie Rio. The object is to launch birds and crash into structures to destroy your enemies and free your friends. Features the same great gameplay from the original as well as some unique twists from the movie.
3.
Dead Space HD
($9.99) is a horror survival game based on the popular console titles of the same name. Provides a cinematic experience in a FPS structure, with professional voice acting, a movie-esque score, and sound effects. Cutting-edge graphics for the iPad.
4.
Flight Control HD
($4.99) is the popular iPhone game given its own iPad version. Land planes by drawing their paths to the runway with your finger. Make sure planes don't collide, else it's game over. Sound simple, but when the skies get hectic, it's harder than you think. One of the first truly classic mobile games that showed off the potential of the touchscreen for a unique gaming experience.
5.
Infinity Blade
($5.99) features some of the most cutting-edge graphics available for the iPad (and iPad 2). Battle one-on-one through a castle full of warriors looking to test your skill. Collect gold and upgrade your weapons, armor, and spells. Learn gestures to perform various attacks and defensive moves.
6.
Superbrothers: Sword and Sorcery EP
($4.99) is a cutting-edge, beautifully crafted adventure game designed especially for the iPad. Filled with humor and clever puzzle-solving, it's a unique experience with an incredible soundtrack thrown in. Come for the gaming, stay for the artistry.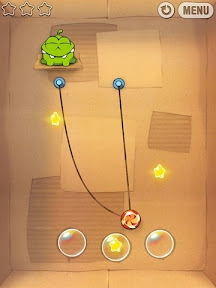 7.
Cut the Rope HD
($1.99) is a beautifully designed puzzle game for the iPad. Strategically cut pieces of hanging rope so that candy falls into the monster's mouth. Sounds easy, but multiple strands of rope, moving obstacles, and all sorts of other clever twists complicate the task. One of the most well-balanced puzzle games I've played—not too easy, not too heard. A visual treat.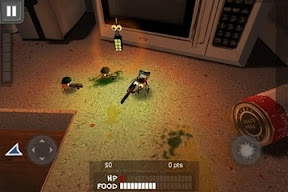 8.
Bug Heroes
($1.99) is like a blend of tower defense, RPG, and adventure game genres. Defend your base from hordes of bugs by fortifying your bases with supplies and killing enemies with various weapons and fighting skills. Explore new territory and collect coins and weapons. There's a little bit of everything here. One of the best critically reviewed games on the iPad.
9.
Fruit Ninja HD
($2.99) is a fun fruit-slicing game that offers a unique fast-finger-swiping touchscreen experience. Slice up fruit when it flies onto the screen. Avoid slicing the flying bombs. Create special combos by slicing up the same fruit into multiple pieces during flight. A whimsical game that will have your fingers, hands, and arms flying and your mouth smiling.
10.
World of Goo
($4.99) is a classic puzzle-solving game that has been a hit on just about every platform it's come to, and the iPad is no different. Stretch, sling, and build the various types of goo in order to solve the various puzzles. Unique whimsical gameplay that is only enhanced by the iPad's touchscreen.
11.
Osmos for iPad
($4.99) is a beautifully unique puzzle/physics game. Swallow smaller orbs to grow your own, carefully navigating around bigger orbs that consume yours. Avoid the stronger gravitational pull of larger orbs. Propel your orb by spewing out it's own mass, only don't spew too much, less you make your orb too small. Unique strategy and gameplay. Simply a beautiful game.
12.
Real Racing 2 HD
($1.99) is a realistic racing game featuring over 30 real cars to race in 15 different locations. Play in a career mode or race others via online multiplayer. Supports up to 16 racers! Keep your progress synched across multiple devices. Sharp, detailed, realistic graphics.
13.
Little Things
($2.99) is a hidden-object game with beautiful, colorful graphics. Search among the hundreds of items that make up a picture of a much larger item. Zoom in and out and the graphics stay sharp. Find all the requested items to move on to the next level. A casual, stress-free game with relaxing background music. Great for kids and adults alike.
14.
Dungeon Hunter 2 HD
($6.99) is a hack-n-slash RPG game that is a sequel to the popular original. Choose among 3 character classes with 2 specializations. Improve your skills and spells, collect hundreds of unique items, change your characters look with new armor and weapons. Quest through a world 5 times bigger than the original. Spectacular graphics with nice animations.
15.
MaxAdventure
($0.99) is a combination of a survival shooter and an adventure game. Aliens have invaded and locked up all the adults. Use Max to kill aliens and free friends. Collect new weapons and treasure to upgrade Max. Use the right kind of gun to destroy alien pods before they hatch. Addictive gameplay.
16.
Uber Racer 3D
– Sandstorm ($0.99) is a realistic racing game with plenty of jumps, shortcuts, and extras to keep this from becoming a boring racer-on-rails experience. What it lacks in uber graphics it makes up in excellent deep gameplay and a cheap price.
17.
Drawn: The Painted Tower: HD
($6.99) is a beautiful point-and-click adventure game that will satisfy even hardened veterans of the genre. Make your way through the painted tower, gathering clues and solving puzzles in a quest to rescue a girl who has the power to bring her drawings to life. Features well-designed puzzles.
18.
War Pinball HD
($2.99) may be the best pinball table from Gameprom, makes of other iPhone/iPad pinball classics like Wild West Pinball and Pinball HD for iPad. War Pinball offers three different tables based on three classic action movies: Platoon, Missing in Action (with Chuck Norris!), and Navy Seals. Features soundtracks and voice acting from the movies.
19.
Reckless Racing HD
($4.99) is a racing game with Dukes of Hazzard-like physics and gameplay. Compete not only to win the race against competitors but also to earn medals by improving your times. Features 8 tracks to rip through, then unlock the reverse direction for 16 total tracks. Features online multiplayer as well—race against strangers from the Internets. Race several different vehicles, from an Indy car to Humvees and trucks.
20.
Tapper World Tour HD
($2.99) is the classic arcade game updated for the iPad. Features Retina-Display graphics with artwork from legendary artist Don Bluth (Dragon's Lair). Work in bars around the world. Serve patrons before they reach the end of the bar and catch their empty glasses. Use special powers like stage shows to distract the customers for a brief respite. A beautiful update to the classic version with HD graphics.
21.
MiniGore HD
($2.99) is a survival shooter with a unique artistic style. How long can you survive against wave after wave of monsters from the dark? Collect more powerful weapons, retreat or advance, just don't let the monsters get to you.
22.
Rage HD
($1.99) was one of the first games with high resolution graphics for the iPhone 4′s Retina Display. It's also a great first-person shooter with wicked gameplay. Make your way through a twisted game-show world, killing horrific monsters before they kill you. A well-designed game providing a console-like experience for only $1.99. It's only drawback is that it's a bit short.
23.
LEGO Harry Potter: Years 1-4
($4.99) brings the entire console Harry Potter game to the iPad in one huge game. Dozens of hours of gameplay that fans of the books and movies will love. A true bargain. Travel through the stories of books 1-4 and solve puzzles, cast spells, and battle enemies like Draco and Snape. A truly epic game that puts you in control of not only Harry but dozens of other characters as well. Simple gameplay perfect for kids and adults alike.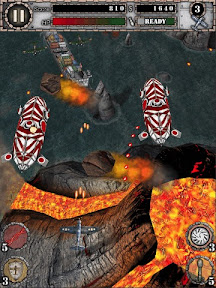 24.
AirAttack HD
($0.99) is a wicked airplane shooter-on-rails that asks, what if the Nazi's actually developed futuristic weaponry like UFOs and Zepplins that fire ball lightning? Take then on with nothing but your trusty P-51 Mustang. Intense gameplay, fun retro-futuristic enemies, and lots of power-ups. One of the lesser known gems in the App Store.
25.
Labyrinth 2 HD
($7.99) is a masterfully designed labyrinth puzzle game. The original Labyrinth was a popular iPhone game, and the sequel takes things up a notch. Navigate your pinball through the maze, avoiding the various obstacles. Cannons, magnets, bumpers, resizers, and more complicate the task. Besides the included levels, also play tens of thousands of levels designed by the community or design your own. Limitless unique gameplay.
26.
Need for Speed Hot Pursuit for iPad
($9.99) is a fast-paced driving game where you try to both outrace the law and be the law running down bandits. Beautiful graphics with the fun, fast-paced style of the arcade classic. Features 20 real-world production cars to race. Drive the famous Lamborghini police car.
27.
Samurai II: Vengeance
($2.99) is a beautiful but violent fighting/adventure game. Cut people in half with your samurai sword as you quest through the beautiful landscapes—like playing through a painting. Gain new combos and skills for more deadly attacks.
28.
Spider-Man: Total Mayhem HD
($6.99) is a combat game featuring everyone's favorite webslinger, Spider-Man! Unleash punches and kicks on a huge variety of villains before making quick work of them with your special Spidey attacks. Take down classic Spider-Man supervillains like Venom, Sandman, and Dr. Octopus.
29.
Asphalt 6: Adrenaline HD
($6.99) is a racing game with deep gameplay that offers over 42 cars and motorcycles to drive. Push the iPad's graphics to the max with real-time reflections on the cars, realistic shadows, blur effects from boosts, and beautiful 3D animations. Race through streets in Tokyo, LA, the Bahamas, and more. Race online against up to 6 players in total.
30.
Sudoku 2 HD Pro
($2.99) is hands down the best Sudoku game on the iPad (and iPhone). Sharp graphics, a frustration-free interface, and thousands of sudokus to solve. A rock-solid sudoku game, perfect for beginners or fanatics.
31.
Space Station: Frontier HD
($2.99) is one of my personal favorite iPad games. Protect your space station against invading ships by mining nearby asteroids and building a network of protective weapons. Make sure your weaponry is always powered—a weak link and your entire network goes down. A great strategy game that works perfect with a touchscreen interface.
32.
My Kingdom for the Princess 2
($4.99) is a resource management and strategy game where the object is to help a princess get home by building roads. Strategically collect resources like wood to build the things you'll need to clear the road. Addictive gameplay and beautiful drawn graphics make this one a gem.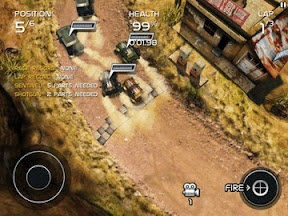 33.
Death Rally
($2.99) is a top-down racer with some violent combat-based racing action. Use your guns and other collected weapons to take out your competition. Features high-def graphics that look great both on the iPad and the iPhone's Retina Display.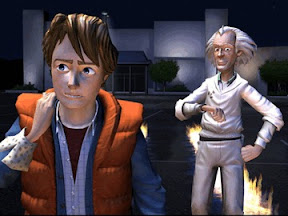 34.
Back to the Future Ep 1 HD
($6.99) is a "point-n-click" puzzle-solver built around the Back to the Future movie franchise. The game actually is set where the third movie leaves off but has settings from earlier films. It has a point-and-click adventure style where you move Marty around to various scenes and you explore through tapping objects. Build up an inventory of useful items and solve puzzles. A great tribute to the movies with many entertaining cut scenes.
35.
Slice It
($0.99) ) is a unique puzzle game where the object is to use your finger to draw lines and divide (slice) objects into pieces order to meet certain goals, for example, creating 4 near-equal areas. The task is complicated by unusual uneven shapes. A great casual brain-stretching game that was popular on the iPhone. Great for the touchscreen.
36.
Burn the Rope HD
($0.99) is an excellent little puzzler that, with over 110 levels, gives you a lot of bang for the buck. The basics are that you try to burn as much rope as you can during the level, with the catch being a rope will only burn upwards. Rotate the iPad so that the rope can continue to burn. Your task is quickly complicated or helped by bugs that will throw unique twists on how and where your flame will burn. A unique casual puzzler.
37.
Fieldrunners
($7.99) is a tower defense that has long been one of the best iPhone games available. Now on the iPad, it plays even better. Build up a maze of towers to prevent enemies from reaching the other side. Combine the special powers of various towers to make the ultimate stand. Fun strategy.
38.
Predators
($0.99) is a bloody hack-n-slash combat game set in the Predator movie franchise. As a Predator, take on humans who have been chosen for their ability to kill. Exterminate them using your special Predator weapons and skills. Bloody action with heads and limbs flying.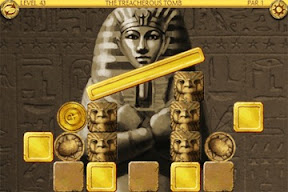 39.
Mummy's Treasure
($0.99) is a challenging physics-based puzzler. It plays like a twist on Jenga—remove the blocks so that you keep the treasure but destroy the monsters. Wickedly well-designed levels will keep you challenged throughout.
40.
Great Little War Game HD
($2.99) is a turn-based real-time strategy game with a fun cartoony style but deep tactical challenge. Play through 20 mission in campaign mode. Navigate the 3D terrain and give your armies the advantage. Funny animations and audio.
41.
N.O.V.A. 2 - Near Orbit Vanguard Alliance HD
($6.99) is an amped up FPS sequel to the popular original iPhone game, now on the iPad. Fans of HALO will love this one. Play through a single-player campaign featuring 12 chapters to fight through. Play online against up to 10 players. 10 different maps to fight in. 12 different guns and 3 different powers to down the enemies.
42.
Civilization Revolution
($12.99) is a game of empire building. Strategically deploy armies, conquer lands, and invest in technology to outwit and outgun your rivals. Build and maintain your empire throughout history, from the dawn of writing up into the modern era of jets and tanks. An addictive turn-based strategy game.
43.
Carcassone
($9.99) is the award-winning, classic board game transferred perfectly onto the iPad. Create a medievial empire title by tile, gain landmarks and score points. Comes with comprehensive in-app manual for beginners with voice tutorials. Play as single player or multiplayer.
44.
Grand Theft Auto Chinatown
($9.99) brings the hugely popular GTA series to the iPad. Perform feats of violence and crime while navigating the Triad gangs of Liberty City. A fun, open-world adventure game.
45.
Marble Mixer
($1.99) is a beautiful version of the classic game of marbles that was built exclusively for the iPad. Features three types of gameplay—Space Mania, Table Tactics, and Monster Picnic—in both single and multiplayer modes. Flick your marbles and try to reach various objectives. Features realistic physics and beautiful animations.
46.
Homerun Battle 3D
($4.99) is a whimsical take on the home run derby contest. Go for distance and accuracy. Upgrade your player with new uniforms and equipment. An exaggerated style makes the game a blast.
47.
Max and the Magic Marker
for iPad ($4.99) is a unique game that combines drawing with an adventure platformer. Draw freehand and anything you draw can be utilized inside the game. Use your drawings to navigate Max through the stages, overcoming obstacles and solving puzzles. Beautiful "HD" graphics.
48.
Mirror's Edge for iPad
($9.99) is a fast-paced game where you leap across rooftops and sprint through tunnels. Leap over and under various obstacles, using special attack gestures to dispense of any enemies that get in your way. Beautiful, graceful gameplay.
49.
Speedball 2 Evolution HD
($2.99) is the classic futuristic sports game remade for the iPad. Speedball is like a fast-paced mixture of football with hockey. Loaded with features and tweaks like career mode, 28 teams from 4 planets, and 10 different single-player game modes.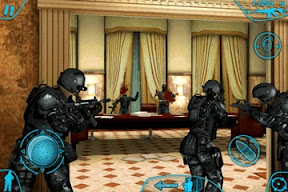 50.
Tom Clancy's Rainbow Six: Shadow Vanguard
($6.99) is the popular tactical shooter franchise now on the iPad. Lead an elite team of soldiers fighting against a global terrorist organization. Play through 11 missions in story mode or fight in online multiplayer with up to 10 players.
51.
Bruce Lee Dragon Warrior HD
($2.99) is an officially licensed 3D fighting game featuring the iconic martial arts star Bruce Lee. It is a high quality and entertaining (albeit casual) fighting game. There is a lot of content to unlock, a competent AI to play against, and plenty of modes to keep you busy for quite some time.