We've read about many government leaders both here and abroad who have iPads and according to MarketWatch, President Obama is now among them. During a town hall meeting in Washington, D.C. today, President Obama was questioned by news anchor Jorge Ramos.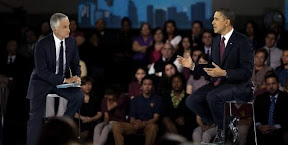 "Do you have an iPad?" asked Ramos next.
"I do have an iPad," Obama replied, joking later about also having his own computer.
"I mean, Jorge, I'm the president of the United States," Obama said. "You think I've got to go borrow somebody's computer?" said Obama to laughter. "Hey, man, can I borrow your computer? How about you? You've got one?"
President Obama also reportedly admitted his iPad is tethered to his BlackBerry.
The President is no stranger to the iPad and has even been spotted signing the popular device. Bystanders even asked the President to autograph their iPads during recent political events in Washington and Portugal. During the most recent signing, the President said, "Sign my iPad, I've done this once before." In both cases the Secret Service seemed somewhat hesitant but that didn't stop the President from putting his John Hancock on the high-tech device.
The MarketWatch report doesn't state whether the president has the original iPad or iPad 2. Regardless, we're sure he didn't have to stand in line to get either one. Who knows, maybe Steve Jobs gave President Obama an iPad as a gift during the recent tech leader dinner.
[Image Credit: Official White House Photo by Pete Souza]
By Carl W. Brooks
Editor, iamthereforeipad.com