If you pick up any two iPads, the outside may look the same (unless they have different covers or cases), but once you turn them on - this is where the magic and difference shine. Most people have about 20 iPad apps that are essential for them. I will give you a list from which you can choose apps that you will hopefully find interesting enough to include some of them amongst your essential apps.
Stitcher Radio
is one of my favorite apps. Not just for the iPad, but for my Android and WebOS smartphone. It let's me listen to podcasts separately or stitched together to make a single "radio-like" broadcast of the content that I am interested in.
Writepad for iPad - English
is one of my favorite app now for the iPad. It allows my to write on the screen in my own handwriting or print and the app converts it automatically into text. While you can use your finger to write, it is much easier and natural if you use a stylus designed for the iPad.
ABC Player
(free)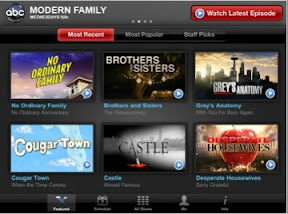 Even if you don't normally watch the ABC channel on TV, chances are you will find yourself enjoying a show or two on the ABC player app for the iPad. I personally enjoy watching "No Ordinary Family" and "WipeOut" on the player. I don't watch either show on the television at all. There are many shows to choose from, but here are a few: All My Children, Bachelor, Boston Med, Brothers and Sisters, Castle, Cougar Town, Dancing with the Stars, Desperate Housewives, Detroit 187, Extreme Makeover Home Edition, General Hospital, Grey's Anatony, Jimmy Kimmel Live, Modern Family, Mr. Sunshine, Off the Map, Secret Millionaire, Supper Nanny, The View, ABC 20/20 and more.
Amazon Kindle
(free)
In only a few months since its debut last year, the iPad quickly became the second most popular e-reader behind the Amazon Kindle. If reading is your passion, getting the Kindle iPad app is a no-brainer. Sure, Apple (AAPL) has its own iBook Store app, but the Amazon book selection is unbeatable and you can read your purchases on the desktop, laptop, phone, Kindle reader or iPad. The books do cost money, but there are free books available too.
Big Calculator
(free)
Yes, I too was surprised that Apple didn't include a calculator app on the iPad. Big Calculator was designed to take full advantage of the iPad screen offering a large display and a paper tape to keep track of your calculations. Need even larger buttons? Rotate to Portrait mode to fill the entire screen with just the calculator.
Flipboard
(free)
Magazines play well on the iPad because of the casual reading experience. Flipboard is an app for creating a customized magazine that pulls content and pictures from Twitter, Facebook, RSS feeds, Flickr, favorite blogs and Web sites. Best of all, Flipboard lets you flip through the neatly organized, wonderfully laid-out pages. I tell you this is the best Facebook and Twitter reader for me.
Instapaper
($4.99)
Instapaper lets you save articles, blogs and news for offline reading. The app turns Web pages into a great reading experience. Few people can stand to read feature stories on a browser because of all the distracting ads. The iPad and Instapaper creates a Kindle-like reading experience for your Web articles.
Dropbox
(free up to 2GB)
Dropbox gives you storage space in the cloud (on the Internet). You can stored important documents securely. It's like having a USB flash drive online ready for access from any of your connected devices, PC, Mac, iPhone, Android phone or iPad.
ArtRage
($6.99)
Art on the iPhone made headlines nearly two years ago when Jorge Colombo drew a painting that made The New Yorker cover. Really, though, doesn't the larger iPad screen make a better canvas? ArtRage is a painting simulation app that keeps track of the amount of paint on the canvas, watercolors reacting to the wetness of the brush, blending colors, and much more.
Epicurious
Recipes & Shopping List (free)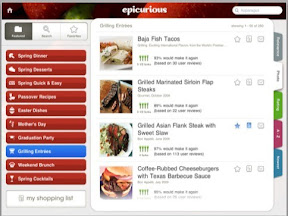 My family spend more time grocery shopping, cooking, eating and watching cooking shows than any other personal activity. Epicurious serves up more than 30,000 recipes from magazines, chefs and cookbooks. Best part of the iPad app version: The big screen makes it easy to follow recipes step-by-step in the kitchen.
Netflix
(App: Free, Service: $7.99 a month)
Sure, there's a time and place for watching HD movies on a big screen. More often than not, though, you'll catch a flick while on the go or quietly in bed. At times like these, you'll want Netflix on the iPad. The iPad's screen is big enough to watch personally. Sometimes I hang out with the wife while she is watching Lifetime on cable, I discover a new flick or enjoy and old favorite on the iPad. This service is well worth it for me and my family. We gave up one of those cable channels that never show anything we want to see, when we want to it. With the Netflix service, we watch movies and TV shows on our Wii, PC, Panasonic Home Theater system and our iPad. You can even get a free trial at their site.
Star Walk
($4.99)
With Star Walk, the iPad becomes a map to the stars. Just point your iPad at the sky, and you'll learn the identities of the stars, constellations and satellites. Whether you are at the campfire with the scouts, relaxing on the beach with your significant other or simply like to be in the know; the Star Walk app is a fun resource.
TouchReTouch HD
($0.99)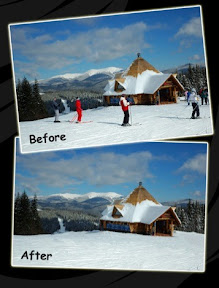 We all have those pictures that would be perfect if it wasn't for that object or person that got in the shot (whether intentional or by accident). There was a time when you just had to live with the imperfect picture or seek the help of the most techie person you know, or hire the help of a professional photographer to fix it. With TouchRetouch HD, you are the expert and all you need to know is how to smear your finger on the screen to do so. It works so good and fast that you will swear it is magic. Now let's see your techie or photographer friends try to do it so fast and accurate on their desktop. You finally are the expert and finally have that perfect photo(s) you always wanted.
Flickpad Pro
($2.99; limited time at $0.99)
If you use Facebook, then I bet you may use it to keep up with friends and family. If you only read their status updates, you might only know about their sleeping, eating or flirting habits. With Flickpad, you can skip all the bantering and focus on what really matter to you: "What's really going in with them?". Pictures speaks a thousand words and reveals what most important in your family and friend's lives. If they take a picture and share it, it must be important to them. You can flick through the photos by date or by a particular person. Without this app, it would be hard to see your friend's picture all in one setting - plus it wouldn't be this fun. Use it with your Flickr account too.
PhotoPad by ZAGG
(free)
Premium photo editing tools for the iPad and all for free. Rotate, chop, resize, polarize and more. Save your modified photos for viewing, sharing and even to make a skin for your devices. Once you get the photo the way you want it, you can even use the photo to make and order a ZAGG skins for your devices through the app and the iPad.
Web Albums
($2.99)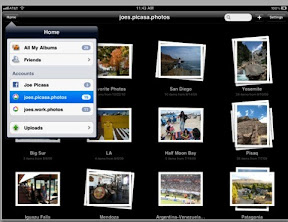 The iPad is the perfect device for sharing pictures. While you can store many on the device itself, it is not necessary to do so for all of your pictures. Pictures are for sharing and many times we will use an online service to do so. I recommend a Google Gmail account because it offers a lot of free service; one of which is Picasa. Store your picture into your Picasa account to share with friends and family online. With the Web Albums app for the iPad, you have access to all of your Picasa albums. You can email, download to the iPad or share links. Add albums and even upload pictures from the iPad to all albums.
Teamviewer HD
(free for personal use or $139.99 for the
Teamviewer Pro HD
for business use)
You can't do everything on an iPad that you can do on a desktop or laptop, right? Well no and yes. The iPad can't do everything, but you if you have a laptop, desktop or server - you can control it from your iPad. It doesn't matter if you are on the couch, in line at the Secretary of State office or watching your child's baseball game in the bleachers; you can control the remote computer. Although I personally use
Logmein Ignition
($30) on the iPad, I know that people can't resist the lure of the word "free", so I wouldn't feel right unless I recommended Teamviewer HD. Teamviewer HD lets you control the computers you have access to or even to your friends and family's computers so you don't have to drive all the way over to your parents house for the second time this week.
Soundnote
($4.99)
SoundNote is a unique way to take notes in meetings, lectures, and interviews. It tracks what you type and draw while recording audio, so you'll never worry about missing an important detail. During playback, just tap a word or drawing and SoundNote will jump right to the proper time in the audio. You can export the notes as a PDF file to your PC (Even export the audio file too).
Fruit Ninja HD
($2.99)
Face it, who doesn't like to get their ninja on? Your finger(s) become lethal weapons (at least for the fruit) with this fun single or two player game. Slice fruit to your heart's content. Battle with a friend or family member to see who can serve the other. You can almost taste the fruit juices as it splatters on the back wall. Play for a few minutes or for as long as it takes for the doctor to call you in.
Plants vs. Zombies HD
($6.99)
Protecting your brains from hungry Zombies has never been so fun and engaging. Rounds and rounds of fun for the whole family, personal achievements and mini-games makes this a repeat favorite. With all this game has to offer, it's biggest asset is that it allows each family member to have their own profile, so you don't have a problem sharing the iPad and the game with everyone.
Pandora Radio
(free)
I don't have a device that doesn't play Pandora (even my TV plays Pandora). I love this free Internet Radio. It works this way, create up to 100 free radio stations by either typing in a Artist, Composer or Song name and instantly you are listening to so serious music. While you can't just type in a particular song and have it play immediately, it eventually will. Once you have a few stations set up, you will see quickly why me and the whole family loves Pandora. We don't even listen to regular radio anymore.
Color Splash for iPad
($1.99)
Ever see those pictures of the bride or flower girl in black and white, but the flowers in their hands are in full color? Ever wonder how they did it? Even more importantly, "Ever want to do it yourself?" Well you can and it is real easy to do with Color Splash for the iPad.
Quickoffice Connect Mobile Suite for iPad
($14.99) or
Documents to Go Premium
($16.99)
Apple promotes its own products:
Pages
,
Numbers
and
Keynotes
, but many of us are Microsoft Office users. We need to be able to handle Microsoft Word, Excel, PowerPoint files on the iPad. While the iPad can read these formats without any of these apps, you must have one of these apps to modify or create Office files. I have both because they both have features that I like.
GoodReader
($4.99)
What can I say about this app? It is one awesome app. I reads and annotates PDF files. You can pull them from the web right from the app or from Safari. You can sync to your desktop or to Dropbox and other file servers. It reads office files and so much more. I won't even look at a PDF on my iPad without doing so in this app.
BlogPress
($2.99)
If you run a bloger or blogspot site and own an iPad, you have to get this app now. It makes life so much easier and blogging so much faster. Create, edit and post blogs stories right from the iPad. Even add pictures, links and formatting with this great tool. It can tell your Twitter followers and Facebook friends about the post when you create the posts too.
Now that you have some new app ideas, check out some
commonly missed tips and tricks
you can do on your iPad.